© 2014 Every Day Good Eating, Boulder CO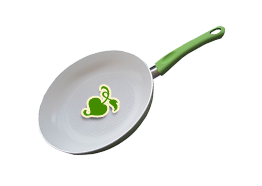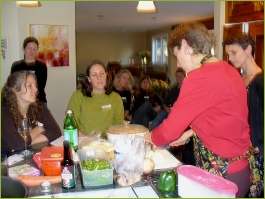 A Party with a Twist:
cook together, learn a little,
chat and laugh a lot,
and of course,
eat!
Would you like to get together with old friends, build team spirit with co-workers or get to know new neighbors? Here's a unique way to do it: Host a cooking get-together.
We plan, organize and coordinate the show and help everyone join in the cooking fun. Get -togethers are fully interactive, with plenty of opportunities for testing, tasting and asking questions as we go along. At the end, everyone shares a delicious meal with the wonderful conversation that comes over good food.
What a fun, low pressure evening! The menu was a good balance between familiar and adventurous, plus something kids would actually eat. And the cooking demo was helpful, too. My friend Erika even wound up buying a zester! A great way to get together; many of the ladies hung around for quite a while after.
Sue H.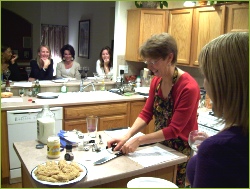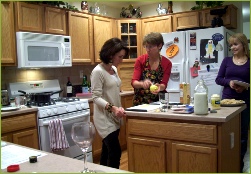 How Does It Work?
It's easy to host a Cooking Get-Together. Sign up and you get:
Three seasonal, healthful menus to choose from.*
All the recipes for your selected menu in a simple, easy-to-follow format
A shopping list, categorized by grocery store department**
A customized invitation in electronic format.
Recipe packet for each participant (frequently includes some handouts.)
Mary's services at the party to demonstrate or coordinate the cooking, to offer fun/educational commentary and to answer questions, usually 1½ to 2 hours, depending upon the menu. Clean up is not included.
* Note: Consistent with Mary's mission to make everyday eating interesting but also doable, the menus feature dishes that are intriguing but still simple enough for everyday cooking.
** Note: The quality of ingredients is critical to the success of each dish and the event itself. Accordingly, Mary does require that the shopping list be followed closely and that good quality products be purchased. Mary is happy to do the shopping with or for you for an additional $50.
Details
Number of People Up to 10
Fees Choose to do just an entree or a complete meal
Entree only: $20/per person, $200 minimum + food/handout copying costs
Entrée + 2 Sides: $25/per person, $250 minimum + food/handout copying costs
Deposit of 50% required at time of booking; remainder due at the event
Locations outside city of Boulder: Time and travel costs of $25 to $75, depending upon distance
Date and Time Availability Contact Us
This Season's Menus Click here
Cooking with Foothill Elementary teachers
Having fun with Sue's neighbors
Erika learning to use a zester
Hi Mary, Everyone keeps commenting on what fun they had Friday night and how much they learned. My sister called me Sunday to ask how long I had cooked the beans as she was making the same dish for her week lunch! Stephanie said she would love to do it again as did everyone else. So could you come again and teach us summer dishes? Thanks again and I hope to take more classes from you!
Mary W.
Cooking get-togethers combine the enjoyment of learning with the fun of a social gathering. Making a meal, socializing and eating together are complimented by light cooking instruction, kitchen tips and healthy eating know-how so everyone goes home with a few new tricks and ideas to brighten up mealtimes.
Your class was really spectacular and was really a wonderful session. I can't believe how organized it was, all the information you had and how you managed to herd all the cats to a successful and delicious meal. You are absolutely fabulous.
Eileen Faughey
author of QuickFlip to Delicious Dinners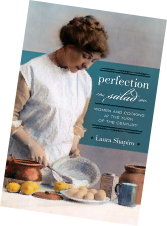 Cooking Get-Togethers–Add a Unique Twist to
Team Building Events, Book Groups, Meet-Your-Neighbor-Nights
From a Book Group reviewing Perfection Salad, Women and Cooking at the Turn of the Century: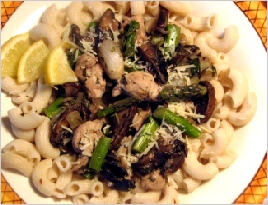 Spring Menu
Mushroom Ragout with Spring Herbs
Whole Grain Pasta
Sauteed Spring Vegetables
Chocolate Dipped Figs
Summer Vegetarian Menu
Summer Lettuce Cups with Cashew Sauce
Japanese Spiced Tofu
Summer Fruits with Chocolate Crumbles
What's a Cooking Get-Together?

Join Our Newsletter Community
Mealtime Inspiration
Healthy Recipes
Food News
Kitchen Tips