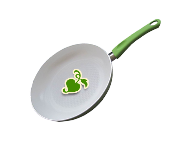 What Others are Saying About
Our Classes
Using More Vegetables I always wanted to use kale, chard and the leafy vegetables touted to be healthy, but I was uncertain how to use them and in what recipes. This class has really opened my eyes to how easy it is to incorporate these 'new' foods into classic soups, stews and stir fries. Thanks!
LeaAnn–Eat Your Greens! class
I love that I am eating really well now and can only get more proficient. I can now look at vegetables like turnips and cauliflower and know I can introduce them into my diet, because I know the basics for cooking with them. This class was exactly what I needed to get comfortable in the kitchen. I will sign up for more.
Clint–Vegetables, Vegetables, Vegetables class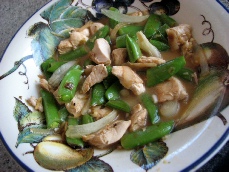 Chicken with Snap Peas and Simple Asian Sauce
Easy dishes like these help class participants see that everyday healthy meal-making is entirely doable
Beating Boredom "I took this class because I was bored and wanted to do more fun stuff with veggies. Class was an inspiration to rejuvenate my taste buds and get excited about cooking again."
Mary, active mid-lifer–Live Well class
"These classes get you excited about healthy cooking and eating."
Cheryl–Cooking with Greens
I loved learning to use some new vegetables, how to make some fast meals and how to spice food so meals aren't boring.
Janine–Cooking for One class
New Cooks Your classes have been fabulous for both me and my daughter, Molly. I'm not quite so panic-stricken in the kitchen anymore. I cooked for my mom when she was here and I think she was duly impressed!
Never-Cooked-Before-She-Turned-60 Nancy–Spicing
and Seasoning class
Confidence in the Kitchen "Before this class I felt uncomfortable in the kitchen. Now I am excited about cooking and trying new things!
Amanda, program manager–Live Well class
I Can Cook! "I actually like to cook, but always thought I couldn't because my sister is such a great cook. I thought that's what "cooking" had to be like--a big and fancy production. But now I see it can be very simple, and still taste great–and I can do it! "
Summer Kennedy, Wellness Director, City of Boulder
Cure Farm class
Experienced Cooks "I learned so much, even though I've been cooking for years!"
Repeated three times in one class by Anita, cooking veteran
Food That's Healthy + Really Delicious "Last month I took Mary Collette's "healthy cooking" class and I just had to shout out how great it was. Mary is sparkling and funny and energetic and she knows her stuff. I learned how to cook food that is not only healthy but delicious. (Before, those two characteristics seemed fairly incompatible to me.) I learned this is a lifestyle and state of mind. I can't gush about her enough.
Carol Turner, new cook and author–Healthy Cooking class
Beating the Dinnertime Rush Hour "Class was great. The meal planning information was the most helpful part for me. I was a decent cook, but needed to have 4-5 things ready to go for the week. The meal planning we learned about is helping a lot. Thanks!"
Greg, Doctor of Oriental Medicine and Licensed Acupuncturist–
Summer Cooking class
From an Avowed Picky Eater "In case I can't make it to the last class, I just wanted to say thanks so much for everything. I enjoyed the series and have already started using your tips and vegetable recipes. I will keep an eye out for future classes. Thanks again."
Kim, converted vegetable eater– Healthy Eating class
Weight Loss Inspiration "Mary has helped me learn more ways to cook! I was a saute fanatic and now I simmer-steam and braise and roast and more! Mary has been helping me meal plan and find energy and joy in my cooking so my husband and I lose and/or maintain weight.
It has been better than words will describe joining Mary to learn cooking seasonally and sustainably, and especially deliciously! I am staying inspired and we are eating everyday so good!! My deepest gratitude for sharing your passion so generously and enthusiastically with me."
Susan, South Beach Diet graduate–Cure Farm class
Invaluable "This class was invaluable! One class series is not nearly enough. Our whole family is making life changes based on this class--a whole change of attitude."
Kristine, active mother of two–Healthy Cooking class
"Hi Mary, I enjoyed the Mediterranean cooking classes so very much! I wish they weren't over already, but I got some good ideas for shopping at the Farmers' Market so your teachings will come in very handy. Thank you so much! You're amazing!
Mary Ann, veteran cook–Mediterranean Diet class
Short and Simple
"I loved the class."
Elaine, working mother and energy consultant–Summer Cooking class
"Your cooking classes were great, and we look forward to more in the future."
Julie, water engineer–Erie class
"Really enjoyed your class Mary."
Pete, recovered heart patient–Erie class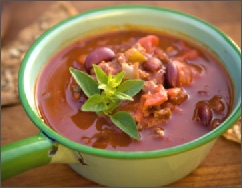 Mediterranean Diet Classes
"Hi Mary, I am so disappointed I could not make it to the last class. Rats. I have learned so much from you. Thanx. And, if you have any more cooking classes, please let me know. I would love to learn more from you. Wendy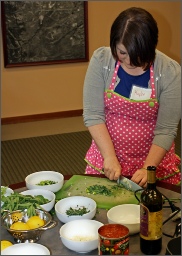 Hi Mary, I had so much fun in the class on Wednesday; I cannot wait until our next one.
Kaylee