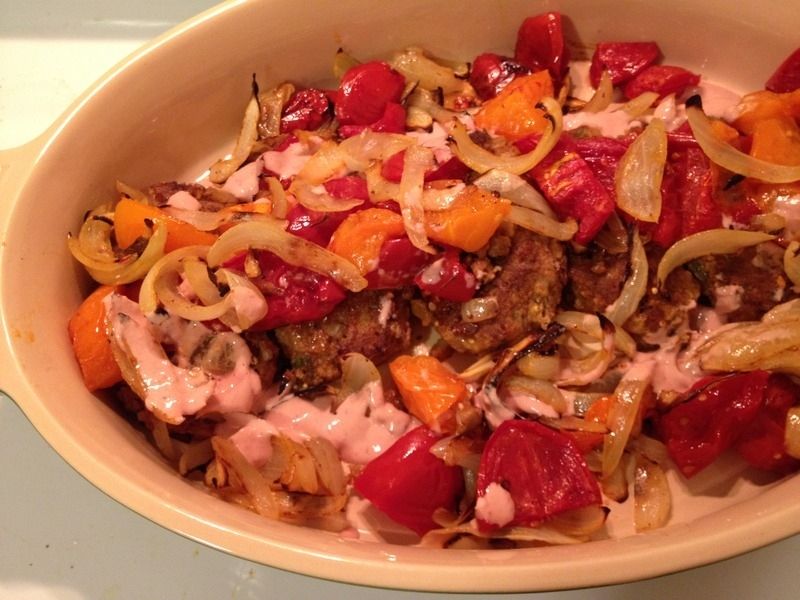 What makes a dish special–something we'd love to serve for special days and holidays? Our live class next week explores how to turn simple foods into special foods, but if you can't make that class, here's a recipe that is a perfect case in point.
I decided to make it for friends since kebabs fit the "special" category. But reading the recipe more closely, I saw the "kebabs" were really just meatballs shaped into long, flat patties to resemble a kebab! Happily, I went ahead with the dish and discovered that even the common meatball can be turned into something special with some unique spice additions, a special sauce and a presentation of roasted vegetables. Make note of these tricks as any or all can be applied to many other common dishes to easily transform them from humdrum to fun and delightful.
Plus:  Enjoying Tasty Meatballs with Food Allergies  If you're gluten and/or dairy free (like me) you know meatballs are a sore spot when eating out. They always look so good, but are always off-limits because they are invariably made with wheat breadcrumbs and milk. Follow this recipe, however, and you can easily enjoy GF, DF meatballs.  So don't deprive yourself any longer!
Recipe:  Lamb Kebabs with Tahini Sauce and Roasted Vegetables*
Serves 4-6
Step 1:  Preheat oven to 400 (F)
Step 2:  Soak Breadcrumbs
½ cup milk or unsweetened milk alternative (e.g., almond or soy)
1/3 cup dry, rough cut whole grain breadcrumbs (see Notes)
In a small mixing bowl, stir together breadcrumbs and milk. Reserve.
Step 3:  Roast Vegetables
2 med. yellow onions, sliced vertically into ¼ to ½" wedges
2 pints cherry tomatoes
2 Tbsp. olive oil
Salt and freshly ground pepper, to taste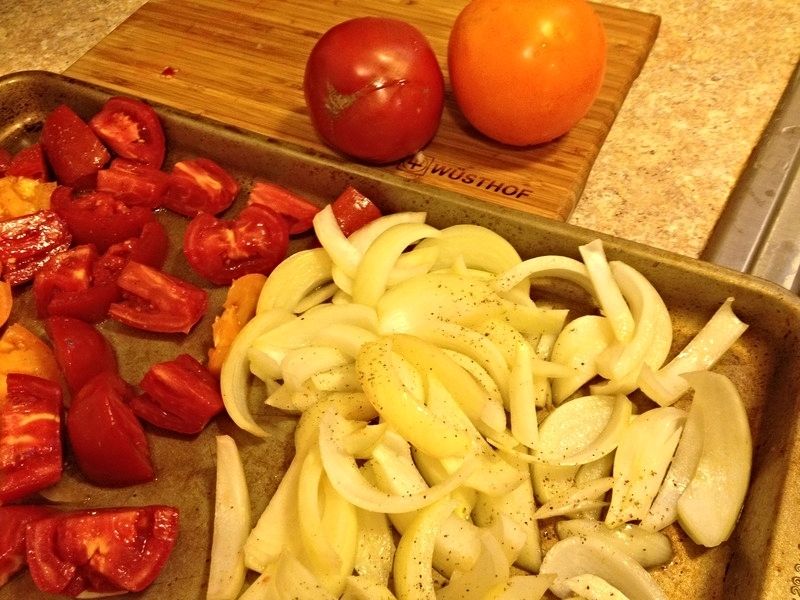 Pile onion slices on one baking sheet and tomatoes on another. Drizzle each with 1 Tbsp. olive oil and toss with hands to coat thoroughly. Spread evenly across baking sheet, ideally with a little space between pieces. Sprinkle with salt and pepper and then place in preheated oven. Roast until lightly browned, anywhere from 15 to 30 minutes, flipping halfway and rotating pans for even browning.
Step 4:  Combine Kebab Mixture
½ med. yellow onion, diced to ¼" (see Notes)
1 lb. ground lamb
1 tsp. ground cumin
1 tsp. smoked paprika
¼ cup finely chopped mint
1/8 tsp. baking soda
¼ to ½ tsp. sea salt
1/8 to ¼ tsp. freshly ground pepper
In a large mixing bowl, combine onion, lamb, cumin, paprika, mint, soda, salt and pepper. Add breadcrumb mixture and knead with hands until everything is thoroughly combined. Form into "kebabs" (long, flat patties about 2" x 5") and lay on a large plate. Reserve.
Step 5: Make Tahini Sauce
2-3 Tbsp. freshly-squeezed lemon juice
1 clove garlic chopped roughly
pinch of cayenne pepper (add carefully; it's hot!)
¼ tsp. ground cumin
¼ tsp. sea salt
¼ cup tahini (see Notes)
1-2 Tbsp. ice water, as needed
Combine lemon juice, garlic, cayenne, cumin, salt and tahini, in that order, in the cup of immersion blend. Process until smooth, drizzling in enough water to make a thick but pourable sauce that is also light and airy. Add additional lemon juice and salt to taste.
Step 6:  Cook Kebabs
Heat oil in a large, heavy-bottomed saute pan over medium heat. When quite warm, carefully lay kebabs across pan, with a little space between each. Cook until browned on both sides and just pink in the center, about 8-10 minutes. Cook in two batches if pan isn't big enough to fit kebabs in a single layer.
To Serve Place a kebab on each plate, surrounded by vegetables. Drizzle with tahini sauce and pass more at the table.
Notes
About Breadcrumbs
Fine vs. Rough-Ground Many commercial breadcrumbs are finely ground, which is perfect for breading chicken, fish and vegetables. However, this recipe calls for rough-ground breadcrumbs, like the kind you make in the food processor from leftover whole grain bread crusts. Their texture makes the best complement to the ground meat in the meatballs.
Measuring Adjustments Of course you can use the fine commercial breadcrumbs, but reduce the amount by about half, since they are so much denser.
Dry vs. Wet Breadcrumbs Breadcrumbs are usually dry, but if you make your own, they might not have had time to dry–perhaps because you forgot to make them a day or two in advance! Don't worry, these "wet" crumbs will work in this recipe, but because they are not dry, and therefore less dense, increase the amount to about ¾ cup rough-cut crumbs.
Gluten-Free Crumbs While whole grain, GF crumbs are now available commercially, they are usually finely ground. I prefer making rough-grind crumbs in the food processor from Food for Life's Millet Bread. Adds a delightfully hearty, robust flavor.
Onions in Meatloaf
Onions are often added to meatloaf uncooked. While this can add a nice bite to the dish, it may be too much if you're not a raw onion fan. In that case, lightly saute the onions before adding, just enough to take off the raw edge but leave a little bite to the meatloaf, maybe 3 to 4 minutes.
Tahini
Tahini is a thick paste made of sesame seeds. It's used in many Mediterranean dishes, like hummus. These days it is available in mainstream markets as well as specialty grocers.
Baking Soda in Meatballs?
Cook's Illustrated explains that soaking meat in a baking soda solution helps tenderize it by raising the pH on the meat's surface. So the best guess is that a pinch of baking soda in a meat mixture has a similar tenderizing effect.  http://www.cooksillustrated.com/how_tos/6707-tenderizing-meat-with-a-baking-soda-solution?incode=MCSCZ00L0
*Adapted from a recipe by Alan Shaya, featured in the Wall Street Journal