Note:  This recipe is part of a series on making your good eating resolutions come true. 
A few months ago, I resolved to make my own almond milk so I didn't have to drink the additives in store-bought almond milk.  While you can learn a lot about how to make almond milk from this series, that's only a small part of the story.
The bigger part–the "moral of the story" you might say–is to show how much territory lies between making a resolution and seeing it happen, day after day.  If you feel frustrated by resolutions that never come true, find out what barriers might be hanging you up without your knowing it–and then how to get around them.
A barrier I discovered is that milk making produces a sizeable pile of leftover almond meal.  I don't like to waste food, so after a couple batches, the almond meal piling up in the frig became a barrier for me.  My solution was to experiment with recipes to use it up, like this recipe for Banana Bread (or muffins.)  Of course if you don't have leftover almond meal, packaged almond flour can be substituted.  See the Notes for directions.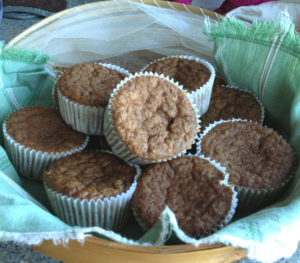 The recipe was inspired by Kelly Schmidt's recipe for Almond Butter Banana Muffins.  I ran across it right after my second batch of almond milk had produced yet another unexpected wealth of almond meal.  Kelly is a Registered Dietician and food coach specializing in Paleo and Primal Eating, and has been living with Type 1 diabetes for many years.  She is quick to say that real food is the key to health.  Her real food muffin recipe calls for almond butter but she encouraged me to substitute almond meal and indeed, it worked just fine.  The (non-Paleo) addition of flour was also mine.
Gluten Free, Almost Paleo Banana Bread (or Muffins)
Preheat oven to 350 (F).  Coat bottom and sides of a 8" square baking pan with butter and sprinkle all surfaces with brown rice flour.
2 Tbsp. raw honey **
1 cup very ripe mashed banana **
4 eggs
1 tsp. vanilla extract
In medium-sized, microwave safe mixing bowl, microwave honey just 15 to 20 seconds to melt.  Using a large fork, beat in banana then eggs and vanilla, until mixture is well-combined.
1  cup almond meal, lightly packed **
¼ cup brown rice flour
¼ tsp. baking powder
¾ tsp. baking soda
1/16 tsp. pure stevia powder **
¼ tsp. salt
1 tsp. cinnamon
Combine dry ingredients in a second medium-sized mixing bowl and stir to combine thoroughly.  Add egg mixture and stir gently, just until smooth.
Using a rubber spatula, spread batter evenly across prepared baking dish.  Bake 15 to 20 minutes, until a toothpick inserted in the middle comes out clean.  Place pan on a wire rack to cool before eating.
** Notes
For Muffins  Line a 12-hole muffin pan with muffin liners.  Fill ¾ full with batter and reduce cooking time to 12 to 15 minutes.
No Almond Meal?  Just substitute almond flour or more brown rice or sorghum flour.
Stevia is a no-carb, no-calorie sweetener made from the leaves of plants found in Asia and South America.  By using a small amount you can reduce the amount of honey required.  However, if your brand of stevia includes other ingredients besides stevia, a larger amount may be required to sweeten the brownies to the same extent as the pure variety called for in this recipe.
Raw Honey is unfiltered and unpasteurized.  Most of the honey consumed today is processed by heating and filtering, which destroys many of the naturally occurring vitamins, enzymes, phytonutrients and other nutritional elements.  This is why the recipe calls for raw, but processed honey can be substituted if you can't find raw.
Applesauce can be substituted for the banana, but if it is not very sweet, you may need to add more honey.