Note:  This recipe is part of a series on making your good eating resolutions come true. 
A few months ago, I resolved to make my own almond milk so I didn't have to drink the additives in store-bought almond milk.  While you can learn a lot about how to make almond milk from this series, that's only a small part of the story.
The bigger part–the "moral of the story" you might say–is to show how much territory lies between making a resolution and seeing it happen, day after day.  If you feel frustrated by resolutions that never come true, find out what barriers might be hanging you up without your knowing it–and then how to get around them.
A barrier I discovered is that milk making produces a sizeable pile of leftover almond meal.  I really don't like to waste food, so after a couple batches, the almond meal piling up in the frig became a barrier for me.  My solution was to experiment with recipes to use it up, like this recipe for Healthy Chocolate Almond Brownies.  Of course if you don't have leftover almond meal, packaged almond flour can be substituted.  See the Notes for directions.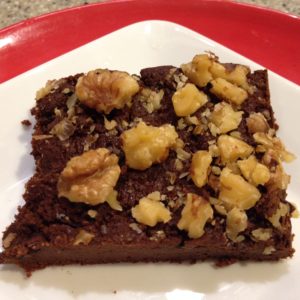 Meghan Telpner's Butternut Squash Ooo-eee Goo-eee Brownie recipe was the inspiration for this almond meal creation.  Meghan is a nutritionist who was diagnosed with Crohn's Disease, a supposedly incurable disease that she cured in a month!  She has gone on to create a small empire around healthy eating, but still finds time to share recipes, like this one that was a desperate last ditch effort to use up the butternut squash in her pantry.  My almond meal substituted well for most of the rice flour called for–and I was able to reduce the sugar by using stevia and a bit less cocoa.  In case you think "Healthy" ruins the appeal of "Brownies," withhold judgment until you've tried this recipe.
Healthy Chocolate Almond Brownies
Preheat oven to 350 (F).  Coat bottom and sides of a 8" round cake pan with coconut oil and sprinkle all surfaces with brown rice flour.
2 oz. unsweetened baking chocolate bar
1 Tbsp. coconut oil
1/3 cup raw honey **
Combine chocolate, oil and honey in a small saucepan over medium-low heat and warm until melted, stirring often to prevent burning.
1 cup baked butternut squash (either peeled or scooped from skin) **
¼ cup brown rice flour
½ cup almond meal **
3 Tbsp. cocoa powder
1/16 tsp. pure stevia powder **
¾ tsp. baking powder
1 tsp. vanilla extract
1 tsp. almond extract
½ tsp. salt
While chocolate mixture is melting, combine above ingredients in food processor and pulse a few times to combine.
Add the melted chocolate-oil-honey mixture and pulse a few more times until batter is well combined, scraping down sides of bowl between pulses.  Using a rubber spatula, scrape batter into prepared pan and smooth across evenly.
.
¼ to ½ cup walnut pieces, optional
Sprinkle walnuts over top of batter, if using.  Bake 25 to 35 minutes until a toothpick inserted in the middle comes out clean.  Place pan on a wire rack to cool before eating.  (Brownies taste best when thoroughly cooled or even the next day–if you can wait that long!)
**Notes
Baking Butternut Squash  Don't wait to bake the squash until you're dying for some sweet chocolate brownies.  The idea behind this recipe is to make things easy by using up leftover squash.  So think ahead:  Make squash one day for dinner then you're set to quickly make this recipe a day or two later.
Baking Squash  Baking or roasting the squash will enhance and concentrate its flavor and won't leave it as soggy as will steaming or boiling.  Peel, seed and then cut into large sections, which allows the squash to brown slightly but stay soft enough to puree smoothly for the brownies.  Coat pieces with canola oil, spread across a cookie sheet, sprinkle with salt and bake at 400 to 425 (F), until tender when stuck with a fork.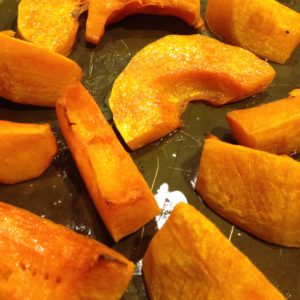 Squash Options  Instead of butternut, we used a combination of dumpling and acorn squash leftover from Thanksgiving with good results.
No Almond Meal? Just substitute almond flour or brown rice flour.
Stevia is a no-carb, no-calorie sweetener made from the leaves of a plant found in Asia and South America.  By using a small amount you can reduce the amount of honey required.  However, if your stevia brand includes ingredients other than stevia, a larger amount may be required to sweeten the brownies to the same extent as the pure variety called for in this recipe.
Raw Honey is unfiltered and unpasteurized.  Most of the honey consumed today is processed by heating and filtering, which destroys many of the naturally occurring vitamins, enzymes, phytonutrients and other nutritional elements.  This is why the recipe calls for raw, but if you can't find it, processed honey can be substituted.