Note:  This recipe is part of a series on making your good eating resolutions come true. 
A couple months ago, I resolved to make my own almond milk so I didn't have to drink the additives in store-bought almond milk.  While you can learn a lot about how to make almond milk from this series, that's only a small part of the story.
The bigger part–the "moral of the story" you might say–is to show how much territory lies between making a resolution and seeing it happen, day after day.  If you feel frustrated by resolutions that never come true, find out what barriers might be hanging you up without your knowing it–and then how to get around them.
A barrier I discovered is that milk making produces a sizeable pile of leftover almond meal.  I really don't like to waste food, so after a couple batches, the almond meal piling up in the frig became a barrier for me.  My solution was to experiment with recipes to use it up, like this recipe for Chocolate Almond Macaroons.  Of course if you don't have leftover almond meal, packaged almond flour can be substituted.  See the Notes for directions.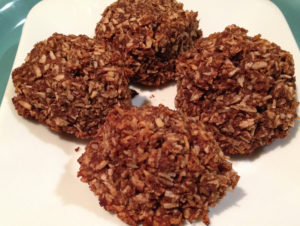 Chocolate Almond Macaroons
Makes: 8 Macaroons
Preheat oven to 325 (F)
1 egg (separated)
1 egg white
In a medium sized mixing bowl, using a whisk or large fork, beat egg whites until frothy.
1 cup finely shredded, unsweetened coconut
¾ cup leftover almond meal
2 Tbsp. cocoa powder
4 Tbsp. raw honey or pure maple syrup
1 tsp almond extract
Pinch salt
To egg whites, add coconut, almond meal, cocoa powder, honey or maple syrup, almond extract and salt, along with egg yolk from separated egg. Stir gently to combine.  (Note: if using honey that is hard, melt first in a small glass bowl for just 10 to 15 seconds.)
1/2 tsp. coconut oil (or butter)
Coat a 9" x 9" baking pan or large tart dish with coconut oil (or butter). Drop batter by heaping tablespoonfuls onto pan to make 8 macaroons (about 2 Tbsp. each) .
Bake 15 to 18 minutes, until outsides become slightly hardened and egg whites are cooked through.
Notes
Tasty Addition  Dried cranberries or cherries would be a good addition.
No Leftover Almond Meal?  This recipe is a great way to use up the almond meal left over from making almond milk.  If you don't have any, though, just substitute ½ cup more coconut and ¼ cup almond or hazelnut flour from the grocery store.
Lower-Sugar Option  Reduce the honey or maple syrup to 2 Tbsp. and add 1/16 tsp. pure stevia.  Stevia is a no-carb, no-calorie sweetener made from the leaves of a plant found in Asia and South America.  By using a small amount you can reduce the amount of honey required.  However, if your stevia brand includes ingredients other than stevia, a larger amount may be required to sweeten the macaroons to the same extent as the pure variety called for in this recipe.
Raw Honey is unfiltered and unpasteurized.  Most of the honey consumed today is processed by heating and filtering, which destroys many of the naturally occurring vitamins, enzymes, phytonutrients and other nutritional elements. This is why the recipe calls for raw, but if you can't find it, processed honey can be substituted.
Almond Extract can be replaced with vanilla. The macaroons won't have quite the rich almond flavor but will still be good.