Late summer and early- to mid-autumn are the best times to buy eggplant, green beans and tomatoes since they are in season.  Here's an easy recipe celebrating the best of the season, with just 4 ingredients and 2 simple steps.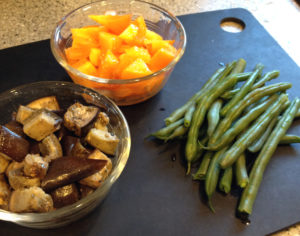 Step 1  Combine Salad Ingredients 
2 cups eggplant, diced to 1" and roasted
2 cups green beans, sliced to 1 to 1½ " and simmer-steamed
2 cups tomatoes, preferably yellow, diced to 1"
Place prepared eggplant, green beans and tomatoes in a salad bowl.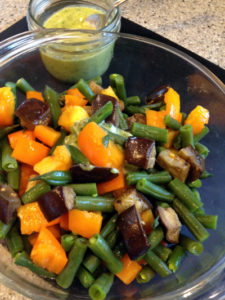 Step 2  Dress Salad

¼ to ½ cup pesto, to taste, commercially prepared or homemade
¼ tsp. each, salt and pepper, if desired
Add pesto to taste and gently toss to coat salad ingredients.  Taste and add salt and pepper to taste, if desired.
The Options
Want to easily turn this salad into a complete meal?  It makes a great lunch!  I'll share ideas below, but before considering any of those add-ons, let's first make sure you're on track to make the recipe at all.  That requires an understanding of "The Mystery."
The Mystery
Let's say you really like the looks of this recipe.  With just 4 ingredients and 2 simple steps, it could be on your table by tonight—or tomorrow at the latest, right? But what are the chances that will happen—or that the recipe will ever show up?
For a lot of people, the chances are slim that this or any other intriguing recipe will show up at all, much less within a couple nights of discovering it.
Hence "The Mystery:"
Most people are bored making the same things night after night
So they are continually searching for new ideas
They want those ideas to be quick and easy
And healthy and delicious go without saying
Today's Harvest Salad recipe fills all of these requirements.  Yet will it show up on your table—or will it stay buried in the depths of your computer?  It will probably stay buried and here's why:
Too many barriers present themselves as you contemplate making it. 
Start with the eggplant, the first ingredient.  Right off the bat, trouble begins:
I've been seeing a couple different kinds of eggplant at the store; which one should I use?
How can I tell if I'm getting an eggplant that will taste good?
What if it's been in the frig a few days—is it still good?
Should I peel before roasting?
How do I roast it?  What temperature?  What kind of pan?  How long?  Do I put anything on it?
Assuming you successfully navigate around the eggplant barriers, the green beans are next:
Do I have to cut off both ends of the beans?
Green beans always taste tough—is there a way around that?
Can I just use frozen beans if I'm in a hurry?
What does it mean to "simmer-steam" the beans?
The tomatoes shouldn't present too many problems, but then . . .
It seems like I buy ones that look really nice but don't taste that good.
And where could I find a yellow tomato—it looks so pretty in the picture?
And is there some way to cut them so the pieces aren't all squashed?
Finally, there's the pesto.
How do I find one that tastes good?
Are some healthier than others?
What if I get one that's bland-tasting or too oily?
What if I need to make my own to work around food allergies?
How do I know the right amount of pesto to use?
Wow!  Did you know this "easy" recipe contained so many "missing information barriers?"  Were you stumped by any of them?   Could these informational gaps stop you from making this recipe?  And thinking more broadly, do these the kinds of gaps stop you from making other new, healthier recipes you'd love to try?
We all face gaps in our database of kitchen and cooking know-how.  Usually, we can work around a few here and there.  But too many gaps, side by side, add up to a deep and uncross-able chasm.  You get stuck on one side, making the same old things, night after night.  On the other side, out of reach, are the new, interesting, vegetable-rich and healthy recipes you'd love to see on your table.
Is there a way to bridge the chasm?  Of course!
Filling the gaps in our kitchen and cooking database is exactly what my programs are about.  The KitchenSmart Solution® I share helps you learn and do the skills, know-how and habits you're missing to be comfortable and confident 1) making new, healthier recipes and 2) transitioning to a new, healthy eating lifestyle.
In my programs, you learn practical, nuts and bolts tools, techniques and know-how like
How to roast any vegetable so you can do it almost automatically . . . no poring over instructions, wondering or worrying whether you're doing it right
What it means to "simmer-steam" . . . and why use that combo technique over either simmering or steaming
The tricks for buying vegetables that will taste good  . . . and what you can do to keep them fresh until you're ready to use them
How to combat bland flavor . . . whether it's your pesto, salad dressing or a recipe's spice blend
When to and not to use frozen vegetables over fresh
How to tell which pesto–or any other food item at the store–will support or damage your health
The thing to remember is this:
A recipe is only a summary. 
If a recipe really explained everything needed to make a dish, it would be a small book!  Since no one wants to plod through an entire book just to make a new dish, recipe writers condense things down considerably.  This makes recipes more manageable, but it can leave you "with too many missing information gaps, side by side, that add up to a deep and uncross-able chasm."
That's why it's important—no, critical—to know the skills, know-how and habits that are missing from recipes.  Only then will you feel both confident tackling a new recipe and capable of making it with some success–even a lot of success!
If you're ready to start building your database of kitchen and cooking know-how, won't you join my step-by-step, healthy meal making program:
An innovative online course to take your meal making from boring and unhealthy to fresh, fun and wholesome in just 5 weeks
Get KitchenSmart®    Get Confident in the Kitchen      Get Cooking
The Options
Now back to the Autumn Harvest recipe.  I hope you'll make the basic recipe.  Then it will be time to have some fun.  I liked turning the leftovers into a lunchtime meal salad by adding brown rice, tuna and red beans–all foods I had on hand and just had to throw in the salad.  So easy!
Want to flex your creative muscles?  Play with these options:
Protein:  Chicken, salmon, tuna, beans (tuna + beans makes a surprisingly good combo; it's actually a classic Italian combo)
Starches:  brown rice, toasted hearty and whole grain bread cubes, cubed baked potatoes, sweet potatoes or butternut squash (yes, pesto tastes good with those three last options)
Dressing:  Check out the options at your local grocery store.  You might find red pepper pesto, an artichoke spread, olive tapenade, even hummus—all have great potential, but you may need to increase the amount of dressing to accommodate the extra ingredients
Have fun and enjoy a 100% healthy meal that tastes great, too!