Any time a celebration or holiday rolls around, it's nice to have a simpler dish that is still nice enough to serve guests–or to just enjoy yourself on a weekend!  To save time, this recipe uses skinless, boneless chicken thighs and canned tomatoes, leaving only a couple onions to cut.  Be sure to cook some brown rice (I love basmati) the night before so cooking it doesn't slow you down.  Just reheat in the microwave in a covered glass dish just before serving.
Recipe: Balsamic Rosemary Chicken
Step 1:  Prep and Brown Chicken Thighs
1 Tbsp. olive oil
1 lb. boned, skinned chicken thighs
1/4 tsp. sea salt
1/8 tsp. freshly ground black pepper
Slice each thigh into two or three, roughly flat and equally-sized pieces. If desired, remove larger fatty deposits.
In a large, heavy-bottomed saute pan, warm oil over medium heat. Season thigh pieces with salt and pepper and place in saute pan when oil is hot enough that chicken sizzles lightly. Leave a little space between pieces.
Cook just until chicken browns lightly on each side and then remove to a plate.
Step 2:  Saute Aromatics
1 Tbsp. olive oil
2 large yellow onions, sliced vertically into 1/2" wedges
2-3 Tbsp. minced garlic, fresh or jarred, to taste
¼ to ½ tsp. dried red chile flakes
Add oil to the pan used to brown chicken. When hot but not smoking, add onions and saute until browned, stirring occasionally, which might take 10 to 15 minutes. Add garlic and chile flakes and saute 2-3 more minutes.
Step 3:  Make Balsamic Sauce
¼ cup balsamic vinegar
½ cup red wine
1 28-oz. can diced tomatoes
½ cup water
¼ tsp. sea salt
1/8 tsp. freshly ground black pepper
Add vinegar, wine, tomatoes, water, salt and pepper to onion mixture and stir to combine thoroughly. Raise heat to medium high and cook sauce about 10 minutes to reduce, stirring occasionally. Then nestle thigh pieces down into sauce, reduce heat to medium low and continue cooking another 10 to 15 minutes until chicken and onions are cooked through and sauce has thickened slightly.
Step 4:  Season and Serve
1 tsp. minced fresh rosemary
Additional salt and pepper, to taste
2 cups cooked brown rice or wild rice blend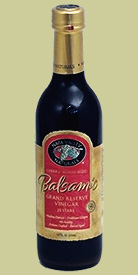 Remove thigh pieces to a serving plate. Stir in rosemary and cook one more minute, then taste and add more salt and pepper, if needed. Spoon sauce over chicken and serve alongside rice.
Notes
As always, good ingredients contribute greatly to good dishes.  So do the best you can in terms of buying quality ingredients.  Here are a couple suggestions that will really add to this dish:
Balsamic Vinegar–some balsamic vinegars are aged longer than others, making them very thick and rich. If you can find one like Napa Valley Natural's Balsamic Grand Reserve, it will add greatly to this dish.
Tomatoes The same goes for tomatoes–buy a high-quality brand and you get a higher-quality dish.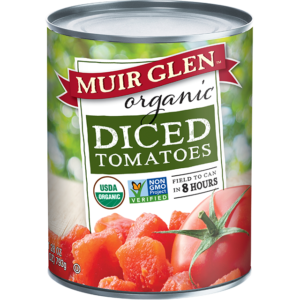 We have used Muir Glen tomatoes for many years in our classes and have always been happy with their sweet, tomato-ey flavor.